Introducing Our Resident Ambassador Program!
Here at Riverton Senior Living, we are pleased to introduce our resident ambassador program, in which our residents can play an important role in establishing relationships among their fellow residents. Our resident ambassadors improve the experience of newcomers as they settle into the neighborhood, act as a point of contact for any inquiries, and speak out for any residential needs.
What it means to be a senior living resident ambassador:
Live right in the heart of our thriving neighborhood: Resident Ambassadors have the privilege of residing in our wonderful independent living & personal care home, where they can take advantage of all the amenities and a friendly atmosphere.
Embark on creating a welcoming atmosphere: Our ambassadors are leading the charge in establishing a welcoming environment where new residents can feel at home. Their kind smiles and encouraging communication will have a long-lasting effect on their transition.
Strengthen relationships: By connecting with peers, they have the opportunity to build meaningful relationships, exchange stories, and establish a feeling of community.
Speak up for fellow residents: As an advocate, resident ambassadors ensure that residents feel their needs and concerns are understood and addressed. Their opinions and recommendations will aid in the ongoing development of our senior living community.
We believe that our Resident Ambassador Program is a great approach to improve the overall community living experience. It's an opportunity to develop yourself, establish enduring relationships, and have a beneficial influence on those around you.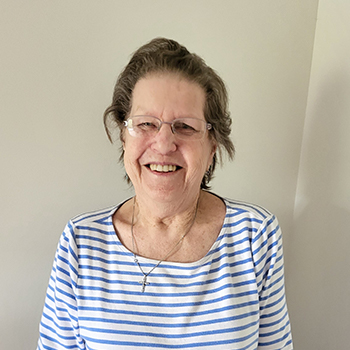 Shirlene Kodash
Shirlene is a member of Riverton Senior Living's Ambassador Program. Shirlene greets everyone with a heartfelt smile.
Shirlene moved into Riverton in March 2014, just a year after the passing of her husband of 59 years. She just felt that taking care of her home was becoming too much work for her and would certainly be a burden on her (2) children.
Shirlene worked at Rodale University in customer communications for 13 years. She then went on to work another 13 years at Lehigh Valley Hardwood Flooring in the office managing the books. This is where she honed her social skills, making her a perfect candidate for our Ambassador Program.
Shirlene enjoys spending social time with all the friends she has made here. She also enjoys a good game of scrabble and bingo. She likes to tap into her creative side in creative arts. Shirlene always enjoys Friday Happy Hour.
Riverton is very thankful for Shirlene's dedication to the Ambassador Program.